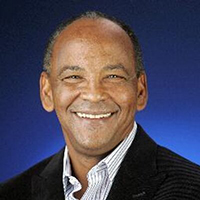 Noel Massie
U.S. Operations Manager, UPS
Global Supply Chain Excellence Summit
Noel Massie serves as UPS's U.S. Operations Manager. In this role, Massie supports and guides all package delivery and logistics services in the United States.
Born and raised in Oakland, CA, Massie attended San Jose State University's School of Engineering before receiving a bachelor's degree in business management from La Salle University.
Massie began his UPS career in 1977 as a part-time package handler while attending college. In 1980, he was promoted into management where he held a variety of positions across the country, including delivery operations, engineering, learning and development, and in UPS's corporate office in Atlanta. He has served as a president for several business units since 1997. Prior to his most recent assignment, Massie was president of UPS's South California District, a $3.7 billion business unit employing over 20,000 people and serving over 150,000 customers daily. He was responsible for all operations, customer relations, and revenue management in Hawaii, Southern California, and southern Nevada.
In addition to his corporate responsibilities, Massie serves as the Board Chair of the Los Angeles Urban League. He previously served as Board Chair of the Los Angeles Chamber of Commerce in 2014 and was a Board Member for 5 years for the Los Angeles United Way. He currently also serves on the Audit Committee of the Annenberg Foundation and the USC School of Logistics Advisory Council.
Awards and Citations
2014 100 Most Influential Award (Orange County Register)
2013 Man of the Year Award (NAWBO – National Association of Women Business Owners)
2012 Nonprofit and Corporate Citizenship Award (L.A. Business Journal)
2011 Information Technology Award (California State University, Los Angeles)
2010 Inland Empire Global Leader of the Year (San Bernardino County's Office of Economic Development)
2010 Ethical Business Leadership Award (Beta Gamma Sigma)
Education
Attended San Jose State University's School of Engineering
Degree in Business Management from LaSalle University