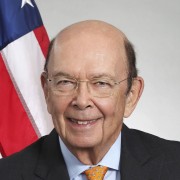 Wilbur Ross
Secretary, US Dept. of Commerce (Invited)
Global Supply Chain Excellence Summit
Wilbur Louis Ross Jr. is an American investor and politician who is currently the 39th United States Secretary of Commerce, under the Trump Administration. Ross was confirmed by the Senate by a 72-27 vote to be the Commerce Secretary. He was a banker, known for restructuring failed companies in industries such as steel, coal, telecommunications, foreign investment and textiles. He specializes in leveraged buyouts and distressed businesses. As of February 2017, Forbes magazine has reported that Ross has a net worth of $2.5 billion.
Ross is known as the "King of Bankruptcy" for his experience in buying bankrupt companies, primarily in the manufacturing and steel industries, and later selling them for a large profit after operations improve.
On November 24, 2016, it was reported by the Associated Press that Ross would be nominated for United States Secretary of Commerce by the incoming Trump Administration. The Trump transition team confirmed Trump's intent to nominate him on November 30, 2016. On February 27 2017, he was confirmed by the United States Senate in a 72–27 vote. He assumed office on February 28, 2017.