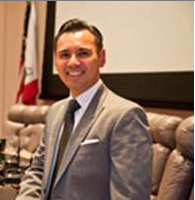 Noel Hacegaba
Managing Director of Commercial Operations & Chief Commercial Officer, Port of Long Beach
Global Supply Chain Excellence Summit
Dr. Noel Hacegaba serves as the Managing Director of Commercial Operations at the Port of Long Beach, California. He was appointed to the post in October 2014 by the Long Beach Board of Harbor Commissioners.
Reporting directly to Port Chief Executive Jon Slangerup, Dr. Hacegaba functions as the Chief Commercial Officer and leads the Port's Business Development, Customer Service, Terminal Operations and Security functions.
Before his appointment, Dr. Hacegaba served as Acting Deputy Executive Director and Chief Operating Officer for the Port since June 2013. As Acting Deputy Executive Director, Dr. Hacegaba oversaw the daily business activities of the Port's four main bureaus: Engineering, Environmental Affairs and Planning, Finance and Administration and Trade Development and Port Operations.
Dr. Hacegaba came to the Port in 2010 as Executive Officer to the Board of Harbor Commissioners and managed the day-to-day activities of the Commission, including all administrative, communications and policy functions. He also made recommendations on public policy issues and served as the Board's liaison with customers, elected officials and all other Port stakeholders. Among his other duties, Dr. Hacegaba also coordinated international trade missions.
He has more than 17 years of public and private sector experience spanning a variety of industries and capacities. Prior to joining the Port of Long Beach, he worked at Republic Services, the nation's second-largest environmental services company. As Manager of Municipal Services, Dr. Hacegaba was the principal contract administrator and negotiator for several municipal contracts totaling $200 million. He also directed business development, marketing and government affairs activities across Los Angeles and Orange Counties.
Earlier, he served as Assistant Chief of Staff for the Long Beach City Prosecutor's Office, where he assisted the elected City Prosecutor with matters involving public policy, administration and the department budget. He also directed all communications and community and media relations functions and was responsible for implementing and managing various successful programs.
With other companies, Dr. Hacegaba has served as a marketing manager, research analyst and corporate and public affairs